Pediatric orthopedics deals with congenital and acquired diseases and malpositions of the musculoskeletal system and treats infants, toddlers and adolescents as outpatients and inpatients. Of course, a parent can stay by their child's side during an inpatient stay. Our parent-child rooms are available for this purpose.
In our pediatric orthopedic department, we treat orthopedic clinical pictures from head to toe. These include congenital deformities of the feet or hip joint in infants, as well as developmental disorders that develop during the course of growth, e.g. bow legs or knock knees, bone cysts or exostoses, deformities of the joints or a curved spine.
Congenital clubfoot, sickle foot, flat foot - plaster redression according to Ponseti
congenital hip maturation disorders in the course of the U-examination
habitual pointed foot gait, bent flat foot position
Botox therapy for muscle shortening
Perthes disease - aseptic bone necrosis of the hip
Difference in length of the legs
post-traumatic deformities of the leg axes
juvenile bone cysts
multiple exostosis disease
scoliosis, M.Scheuermann, kyphosis of the spine
joint diseases like cartilage-bone defects - osteochondral defects
dislocations of the patella - habitual or traumatic dislocations of the patella or congenital disc menisci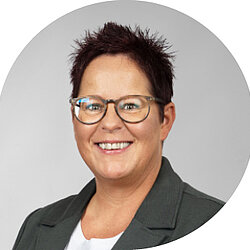 Stefanie Baudis
Foot and ankle surgery secretariat
Tel.

+49 2351 945-2386

Fax

+49 2351 945-2371
At all other times, you will be helped in our Central Emergency Outpatient Clinic Phone +49 351 945-0.