Dear colleagues,
Welcome to our clinic and our website. I am very pleased that you have found your way to us and look forward to a good collegial cooperation. At this point, I would like to introduce you to the Hellersen Sports Clinic.
As a specialized orthopedic clinic with a very high degree of specialization in the respective fields, we have a long tradition, so that we could celebrate our 75th anniversary in October 2021. While it was not until 1970 that a separate building was constructed for the clinic, the first athletes were treated at our clinic as early as 1946. This expertise has remained to this day. As team doctors, our physicians care for many local clubs as well as the youth teams of the DFB and beyond.

First address for athletes
Our independent Sports Medicine Department, founded in 1997, also performs performance and check-up examinations as well as squad examinations for sports teams and draws up training plans. In addition to amateur and professional athletes, many non-athletes also rely on our expertise, because we give them just as much attention as we do our top athletes - in every area of our clinic.
With more than 50 physicians, we can provide the right specialist for every disorder of the musculoskeletal system. From injuries to the treatment of deformities and joint-preserving measures for wear and tear to joint replacements, we are the place to go for you and your patients. Every year, 850 knee and hip prostheses alone are inserted or replaced at the Hellersen Sports Clinic. Our specialists can accurately assess up to which point joint-preserving measures can be used and at what point a prosthesis is unavoidable. Ankle, shoulder, elbow as well as finger and wrist prostheses are also used at the Hellersen Sports Clinic. For example, private lecturer Dr. Sascha Beck, chief physician at our clinic since January 2020, applies his experience and research findings to new procedures in shoulder endoprosthetics. He is also a specialist in cartilage cell transplantation. This is a particularly promising treatment for preserving cartilage for as long as possible and preventing osteoarthritis.

State-of-the-art surgical procedures
As a matter of principle, we use the most modern surgical procedures. Thus, in addition to minimally invasive procedures, we also operate arthroscopically. The advantage of these procedures: Due to the tissue-sparing intervention, our patients are usually quickly recovered and can quickly return to their daily lives or even engage in sports.
The Hellersen Sports Clinic is also the place to go when it comes to chronic pain. Special pain medicine is often the last hope for those affected when they are already considered to be out of treatment elsewhere. The department uses state-of-the-art procedures and medications, such as ziconotide, the venom of the cone snail. Special procedures used include epiduroscopy and high-frequency stimulation.

Around the back
Our clinic is completed with the Spine Center, which was expanded in October 2020 to include Special Spine Surgery. With Conservative Orthopedics, Spine Surgery and Special Spine Surgery working closely together, patients can be assured that all options have been ruled out before surgery is considered. While spine surgery focuses on microscopic minimally invasive disc surgery and spinal canal widening, complex operations are performed in special spine surgery, such as for vertebral body fractures or deformities.
Our range of services is rounded off with reconstructive, plastic and aesthetic surgery. In this way, the form and function of the body are restored, for example after an accident or in the case of a congenital deformity. Our services range from the treatment of burns to scar therapy, tumor surgery and the reconstruction of autologous tissue, including the breast. It also includes breast reduction, lipedema therapy including liposuction, lifting operations and other procedures that also aim to improve the external appearance, for example through hair transplantation, laser treatments or otopexy.
If you need detailed information about our clinic as well as individual specialties, if you have any questions or suggestions, as well as if there is a problem, do not hesitate to contact me. I am at your disposal as Medical Director.
I look forward to a collegial cooperation with you,
Yours, Dr. Petra Scheffer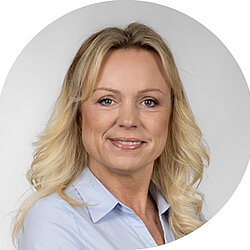 Simone Broda
Medical Director's Office
Tel.

+49 2351 945-2228

Fax

+49 2351 945-2097