The task of hospital hygiene is to keep patients, visitors and employees healthy. Recognizing infection hazards is the central prerequisite for a successful approach.
Numerous legal laws and regulations form the basis for all regular measures in all areas of the Sports Clinic. In cooperation with the hospital hygiene department, risks are identified and necessary actions are determined.
We also place a great deal of emphasis on prevention. For example, prior to inpatient admission before surgery, our patients are given a means of disinfecting full-body washing, as well as instructions on how to do so. Before major operations, for example in the field of endoprosthetics, a nasal gel is also handed over for use. These measures are used to minimize the risk of bringing germs with us from the outset and thus also that of wound infection.
In addition, patients are asked about risk factors regarding MRSA bacteria before admission, and a swab is taken from almost every patient beforehand and the patient is only admitted after a negative result. The result of our approach is a very low wound infection rate.
Numerous statistics prove our successful work, but also serve us as a quality assurance measure.
Another important aspect is the regular consultation and training of our employees. At regular campaign days on the subject of "hand hygiene", patients, relatives and interested parties are informed by our specialists about this important aspect. Since 2011, hospitals have also been able to receive awards as part of the "Clean Hands Campaign", thus confirming the quality of hand hygiene. We are pleased that, after being awarded the silver certificate in 2021/2022, we have been awarded the gold certificate for 2022/2023.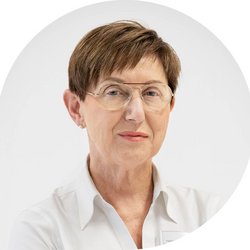 Ingelore Gester-Büdenbender
Hospital Hygiene