Did you know that your feet really do the distance?
In a way, they carry you around the world three times in your life. That's why it's so important to be on good footing from an early age. That is why at the Hellersen Sports Clinic we pay the greatest attention to children's feet.
Starting with the surgical correction of children's flat feet, corrections of malpositions of the feet and forefoot such as hallux valgus, through ankle interventions to the use of ligamentoplasty to stabilize the joints.
Our foot and ankle surgery team has many years of experience in the conservative and surgical treatment of diseases and deformities of the foot and ankle - in children and adults.
Individual treatment tailored to the patient is always the focus of our work.
Differentiated therapy of hallux valgus

Joint-preserving and joint-stiffening therapy of hallux rigidus

Surgical therapy for small toe malpositioning and metatarsalgia / claw toes

Joint-preserving flatfoot surgery with tendon reconstruction

Stabilizing metatarsal surgery after old injuries and fractures

Achilles tendon reconstruction for acute and chronic injuries

Heel spur surgery

Reconstruction and stabilization surgery of the peroneal tendons

Ligament reconstruction of the upper ankle joint

Arthroscopy of the upper ankle joint and hindfoot

Treatment of cartilage damage of the upper ankle joint

Stage-oriented therapy of arthrosis of the upper and lower ankle joint

Joint stiffening of the upper and lower ankle joint

Endoprosthetics of the upper ankle joint

Correction of the infantile flat foot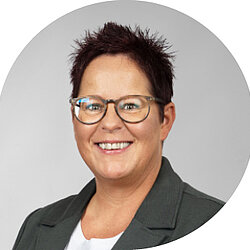 Stefanie Baudis
Foot and ankle surgery secretariat
Tel.

+49 2351 945-2386

Fax

+49 2351 945-2371
At all other times, you will be helped in our Central Emergency Outpatient Clinic Phone +49 2351 945-0.