Conditions such as herniated discs, spinal stenosis, problems with cervical, thoracic or lumbar vertebrae, and scoliosis (a twisted, tilted spine) are treated non-surgically with Conservative Orthopedics. Instead, the pain is treated with special injections, osteopathic techniques such as fascia treatments or interventional pain therapy, for example, and naturopathic treatment methods are also used.
Conservative treatments of disc-related and degenerative spinal disorders such as sciatica, etc.

Injection treatments on various structures of the musculoskeletal system, e.g. facet joints, sacroiliac joints, fascia structures, trigger point therapy, so-called sclerotherapy, etc.

Osteoporosis therapy

Various physiotherapeutic procedures, osteopathic techniques such as fascia treatments

Naturopathic procedures such as leech therapy, etc.

Interventional spine pain therapy: various peridural injection procedures, PRT, cryodenervation of painful vertebral joints, etc.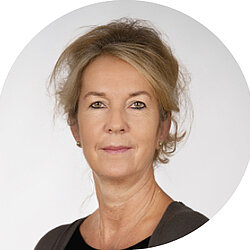 Claudia Schnitzler-Moos
Secretariat Conservative Orthopedics
Tel.

+49 2351 945-2249

Fax

+49 2351 945-2253